Tent, Table & Chair Rentals in Ocala, FL & Surrounding Areas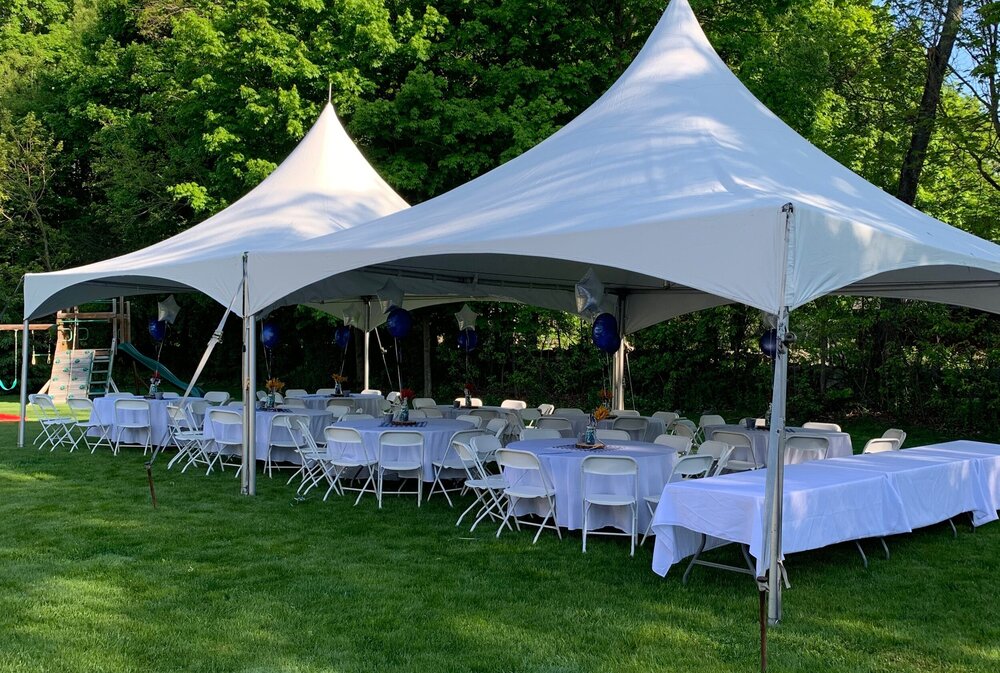 When it comes to renting a tent in Ocala, Florida, Rebound Party Rentals just can't be beat. With the best selection and styles of tents, tables and chairs, it's easy to see why we are Ocala's leading party rental company.

Hosting an outdoor event in Ocala, Florida can be a lot of fun, but the weather in Florida can certainly be unpredictable. If you live or play in Ocala, you know that thunderstorms can roll in at the drop of a hat one minute, and the next thing you know the relentless Florida sun is pounding down on you. One minute it's sunny, and the next minute, a thunderstorm rolls in. That's why renting a tent for your event is essential.

Tents not only provide shelter from the rain or shade from the sun, but they can also create an intimate and comfortable atmosphere for you and your guests. You can also decorate your tent in any style to fit the theme of your event. From classic, contemporary, whimsical and everywhere in between, there are so many possibilities. Also, we offer several different sizes of tents so you'll be able to find the perfect size to accomodate your guests.

Tents also allow for versatility. A large tent can provide enough space for hosting a wedding or corporate event where you'd like to have seating in one area, food in another and even an area to set up a dance floor. We have worked with many event planners in Ocala and the surrrounding areas and we'll make sure that every detail of your event is attended to.

Whether you're having your event somewhere like Stone Creek Golf Club, any of Ocala's beautiful parks or even on your own property, we can provide the perfect tent, tables and chairs for your party, event or special occasion.
  Tents Tables and Chairs

Does your special event need extra seating for guests? Maybe some more tables to gather at for gifts, food, or drinks? Or a tent to provide cover from the hot sun or Florida's afternoon showers?

Here at Rebound Party Rentals, your safety is our #1 priority. Rest assured that all of our tents, tables, and chairs are thoroughly cleaned and sanitized before delivery to your location.

Only need a small number of tables and chairs, or does your order not meet our minimum order amount for delivery? No problem, check out our "Customer Pickup" category!
Tent Rentals, Table Rentals, and Chair Rentals
Welcome to Rebound Party Rentals, the premier choice for tent rentals in Ocala, Citrus County, and Marion County! Our mission is to make your next birthday party, reunion, picnic, prom, or backyard event an unforgettable experience filled with excitement, laughter, and beautiful moments. We take pride in providing top-quality tents rental and rental equipment, ensuring that your Ocala party rentals needs are met with ease and affordability.
As a family-owned and operated business, we understand the importance of variety in every event. That's why we offer a wide range of inflatable rentals, including bounce houses, combo bouncers, and obstacle courses. Our extensive selection guarantees that your guests will have a fantastic time, regardless of age or interests.
What sets Rebound Party Rentals apart from the competition is our commitment to customer satisfaction. Our team of experts works tirelessly to ensure that every detail of your rental experience is seamless, from the initial inquiry to the setup and breakdown of equipment. With years of experience in the industry, we've mastered the art of creating unforgettable memories for all types of events, including birthdays, proms, reunions, picnics, and weddings.
When it comes to Ocala party rentals, Rebound Party Rentals understands the importance of affordability without sacrificing quality. That's why we offer competitive pricing for all our rental equipment, including tents rental, bounce houses, and other party supplies. We also provide rent Ocala services, making it easy to secure everything you need for your next event with just a few clicks.
As a leader in tent rentals in Ocala, we pride ourselves on offering a wide range of options to accommodate events of all sizes. From intimate backyard gatherings to large-scale weddings, our tents rental options are designed to create a comfortable and inviting atmosphere for your guests. Each tent is meticulously maintained and inspected before every event, ensuring a safe and enjoyable experience for everyone.
In addition to our tent rentals, we also offer a variety of wedding rentals to make your special day as magical as you've always imagined. From elegant table settings to stunning decor, our wedding rentals will transform any space into a breathtaking oasis for your big day.
When it comes to planning your next event, leave it to the experts at Rebound Party Rentals. With our vast selection of rental equipment, tents rental, and unparalleled customer service, we guarantee that your next Ocala party will be a resounding success. Don't let the stress of event planning get in the way of creating beautiful moments and memories with your loved ones.
It's party time, and Rebound Party Rentals is here to make your next event a spectacular one. Contact us today to reserve your tent rentals in Ocala, Citrus County, and Marion County. Let us help you create an unforgettable experience that will have your guests talking for years to come.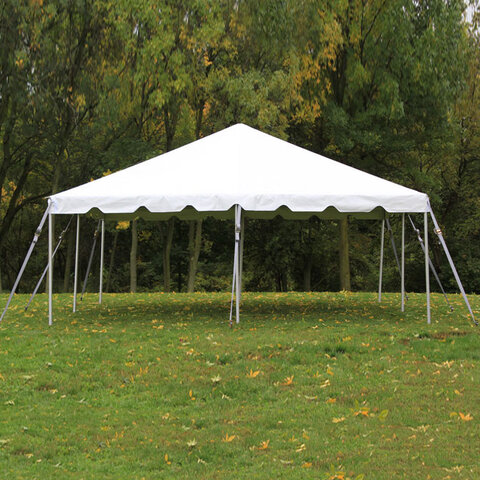 20 x 20 Pole Tent Rental
20 x 20 Frame Tents are perfect for backyard parties, graduations, weddings, and virtually any party or event where a little shade from the Florida sun is needed.

Each can seat dozens of guests comfortably. Our pole tents can be rented with side walls or without.

Frame Tents can be set up on grass, dirt, gravel, asphalt, or concrete.

Order a Tent
Tent Rentals in Ocala and Central Florida

Are you looking for Ocala tent rentals for your outdoor wedding or event? Rebound Party Rentals is the premier Wedding Tent Rentals Ocala provider. With 20x30, 20x40, and even larger White Tents available, it's no surprise Rebound Party Rentals is the best choice for tent rentals when you look at the choices and selections available. Rebound Party Rentals not only offers quality tents, but we offer amazing inflatables to keep kids occupied and make some amazing wedding fun photo moments! Rebound Party Rentals even has dance floors for those looking for a perfect spot to perform the first dance. We also carry lighting, stages, and sidewall options to help set the mood and help keep the weather at bay during your event.

We set up our tents for your events long before your guests arrive which will give you the peace of mind that it is taken care of. After your event, we will come and take it down and bring it back to our warehouse where we clean and sanitize it for the next customer. Once we leave, our goal is to leave your party site looking like there was never a tent there at all.

Our pole tents offer unobstructed views which are great for creating an open and welcoming event space. It also keeps people from bumping into a pole in the middle of an event while they are dancing around or mingling with other guests. Our canopy tents are also a great way to give your guests some time out of the elements.

Rebound Party Rentals offers the best option for any celebratory events as well. Our tents come in multiple sizes. If you're not sure how big of a tent you'll need to fit the number of guests and venue space, we're happy to set up an appointment to view your space and advise on your best wedding tent rental options.

Our tent rentals come in sizes ranging from 10x10 to 40x80! They are great for large events or just a place to relax and watch the activities without being directly in the sun. Rebound Party Rentals tent rentals are perfect for birthday parties, church events, corporate events, weddings, party tent rentals RI, and many more event types. Our tent rentals can be set up in backyards, parks, corporate locations and more.

Choosing a Tent Rental is easy if you stick to the rule of thumb of 10 sq. feet per person if you are planning to use it for a sit-down meal. For example, our 20x30 Tent would accommodate up to 60 guests for a sit-down meal, and our 20x40 Tent Rental would allow up to 80 guests for a sit-down meal. Keep in mind if you just have a buffet-style meal at the party, you can easily just add a buffet location, and add a few tables & chair settings and have a great outdoor food area for your guests. Rebound Party Rentals is your Ocala, Florida tent rental experts!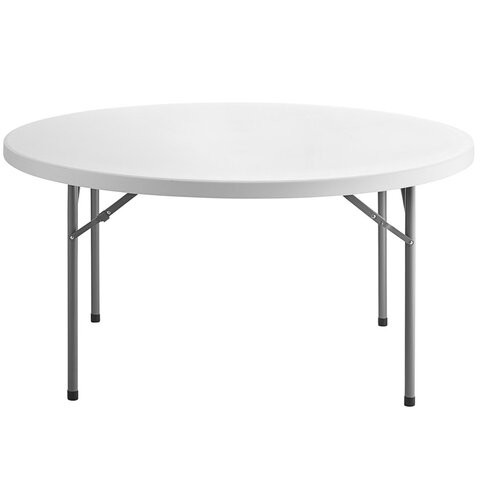 60 Inch Round Table Rental
60 inch round tables are perfect for any gathering or event. Each can seat 6 adults comfortably.

Table rentals are great for family gatherings link Thanksgiving and Christmas, celebrations, graduations, and so much more.

Instead of spending a lot of money and taking up a ton of space buying and storing tables, do it the easy way. Rent your tables today from Rebound Party Rentals!
Rent Tables Now
Table Rentals in Ocala, FL

If you are looking for table rentals in Ocala and surrounding areas then you have found the #1 Party Rental provider in Ocala and Central Florida. Rebound Party Rentals provides amazing customer service and offers Tables Rentals for your party and event rentals in here in Ocala and the surrounding areas. Our table rentals are conveniently available in 6ft banquet, high top style, and 60-inch round tables. The different sizes that you will find in our inventory will afford you the opportunity to have just the right setting for your next event regardless if it is a backyard party with a few friends or you are planning a wedding event for the happy couple.

Have you ever had to eat a nice meal when there is no table to put the plate on? It's not easy and can lead to a mess if you drop the plate or simply want to put it down for a second and do something else. You can avoid all those problems with a table rental from Rebound Party Rentals.

Tables are a great place for putting gifts while the party is going on and people are socializing. Table rentals also make for a less stressful party for the host/hostess by providing your guests a place to gather comfortably. They can put their drinks and plates on the table and spend more time enjoying the event you took so long to put together.

Make the best choice when choosing where to get your table rentals from. Choose Rebound Party Rentals.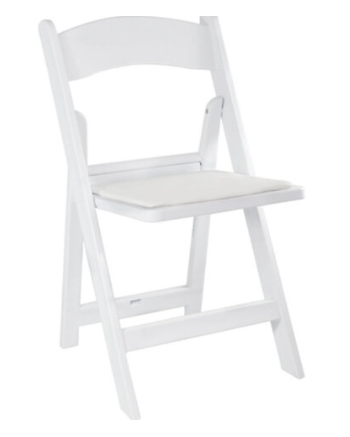 Wedding Chair Rentals
Whether it's a wedding, a graduation, or any great celebration, everyone loves a comfortable and classy looking chair. Our wedding chairs offer just that! From padded seats for comfort when guests are sitting for long periods of time, to the class and elegance that any wedding or special event is looking for, our white resin padded chairs are perfect for your special day.

Renting these chairs and any of our party rentals is also super easy. Simply add the item/s to your cart. Select the date and time of the event. Input some information and pay a small deposit and that is it.

Rebound Party Rentals will handle the rest and make you event stress-free and one to remember. Book your chair rentals with Rebound Party Rentals today!
Order Chair Rentals
Chair Rentals in Ocala

Every party needs to allow for a way for guests to sit at some point. Whether it is to eat a meal, or simply to take a break and talk with other guests. Our chair rentals solve that problem.

Parties without seating can create awkward moments, tired guests and people finding a reason to leave early when they just want to sit down for a moment. Chair rentals are often something of an afterthought and can create a stressful day if not planned for.

When rented with an inflatable or interactive game from My Sons Inflatable, our chair rentals are a great place for parents to sit while their children are having fun.

Chair rentals are the best way to keep your guests comfortable at your next party and event. My Sons Inflatables have been providing clean and safe chair rentals to our wonderful customers of Rhode Island for more than 5 years.
Why Choose Us for Your Tent, Tables & Chair Rentals in Ocala
Rebound Party Rentals offers the perfect inventory of tables and chairs for any event and with our tents providing cover from the elements, your event can happen rain or shine. Your guests will all appreciate the work you put into creating the perfect setting for your event and we will let you take all the credit. Tent, table and chair Rentals are great additions to add to your party rentals anywhere in Ocala and surrounding areas.
Our staff is experts when it comes to the safety and assembly of all our tents. Rebound Party Rentals is considered one of the best party rentals companies in Ocala, FL according to our
5-star reviews on Google
. We offer an easy-to-use online booking service for your convenience.
We provide some of the absolute best customer service in all of Ocala, FL. Our inventory is second to none with the latest and greatest of all the popular themes and designs. It doesn't matter the type of party or event you are hosting because we are sure there is something to fit just what you need.
If you are not sure which one of our rentals is right for your party, we are just a phone call away. Reach out to us and one of our friendly staff members will help you choose the right items for your party location, the size of your party and type of event you are hosting.
We are a locally owned and operated company in the Ocala, FL area. Our company is licensed and fully insured. When reserving a tent rental or table and chair rental or other rental item for your party or event, put your trust in Rebound Party Rentals like thousands of other happy customers. If there is one thing certain, you can rest easy knowing our friendly office staff and delivery crews will handle everything. We strive to take the stress of planning a party away as much as possible so you can focus on having a fun time at your party.
Customers Who Rented Tents, Tables & Chairs in Ocala Also Rented: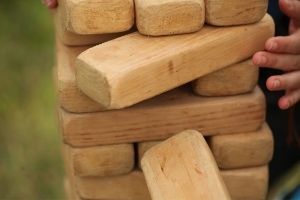 Interactive Games
A party or event is not complete without some awesome games for guests and attendees to play. We have many options to choose from for people from 2 - 102. Add them to your party to guarantee it's a hit!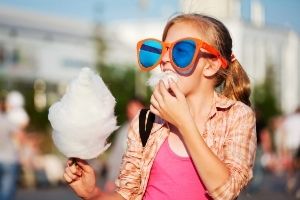 Concession Machines
Sweet and savory treats aren't just for kids. Enjoy an ice cold snow cone to cool off on a hot Florida day, or some savory popcorn at the Fall festival. Either way, we've got something for everyone to help them curb their cravings.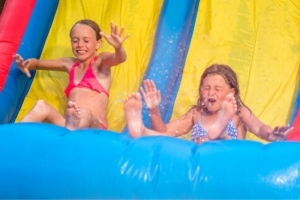 Water Slides
It's not really a party unless you've got a water slide, right?! Choose from our selection of waterslides for children and adults. We offer many different sizes and color themes perfect for any party or event.
Frequently Asked Questions About Tent, Table and Chair Rentals