Water Slide Rentals in Citrus Springs
  Water Slides

Friday - Monday for just 50% more!

Dropped Off Friday by 6pm

Picked Up Monday After 8am!

* Early Week Rentals: If you are renting an item for a Monday, Tuesday or Wednesday event: Select the 2 day time slot and Enter bogo at checkout to get 2 days for the price of 1 *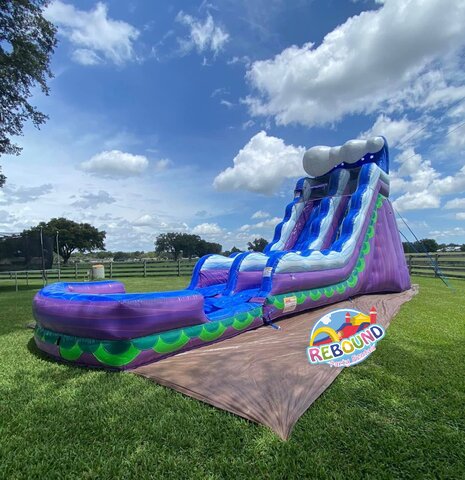 Featured Water Slide Rental
20ft Purple Odyssey Water Slide with Deep Pool
This slide is a real eye-catcher! The vibrant colors and large wave at the top definitely make it stand out at any party or event. This slide will give your thrill-seekers are great way to feel the rush. The deep pool at the bottom will surely cool you off after racing 20 feet down this beautiful slide!

Features


Vibrant colors
Net at the top to keep participants from jumping out of the slide
Removable pool allows the slide to be used dry if needed
Safe for riders of all ages
Order Now!
Water Slide Rentals in Citrus Springs
Rebound
Party Rentals
offers some of the best water fun in the area. We all know how much fun it is to be able to splash in the water while in the heat of the Florida sun. While it may not be the beach, water slide rentals from Rebound Party Rentals give you the ability to beat the heat and have some fun all in your own backyard. But our rentals are not just for backyard parties. We often deliver to schools, churches, camps and even corporate events. We deliver throughout the area delivering fun wherever someone is planning a party or event and is looking for a way to create smiles for their guests. Creating smiles is one of the things we love most about what we do.
We all know how hot it can get in Florida and we are often looking for a way to get some relief from the heat. At Rebound Party Rentals, we also know that it is more fun to beat the heat while playing in water and sliding down one of our water slide rentals. That's why we have a great selection of water slides in our inventory designed for not only maximum fun, but safety. We deliver throughout
Citrus Springs
giving you the perfect way to have some fun at your next party or event. We also have slides for children of all ages. From our 15 ft tall slides and bounce houses with slides for smaller riders to our massive 21 ft slides designed to give even the biggest thrill seeker some wet fun. Our water slides can also be used for kids of all ages and that means parents can ride them too. You'll find what you need at Rebound Party Rentals.
It is easy to get your water slide rental started, all you need to do is click on the item you'd like to rent, give us your party details, pay a small deposit and we will take care of the rest. On the day of your party, we will deliver your water slide, set it up and show you how to safely operate the slide. After your rental, we will show up, take the slide away and return it to our warehouse for cleaning and sanitizing so it is ready for the next customer.
If you are trying to find the coolest water slide rentals in the area, you've come to the right place. Rebound Party Rentals provides the community we serve with the most fun inflatable water slide rentals. Beat the summer heat at your next celebration in the funniest way with our water slide rentals. Water slide rentals are the perfect way to entertain visitors for those birthday celebration parties, college water days, church summer field days, corporate gatherings and a lot more. Wherever there is a demand to cool down, think of the coolest water slide rentals the area has to offer.
You can also combine your water slide rental with any of our other rentals for even more fun. We are happy to bring a bounce house or bounce house with slide to your party which can also be a great way to give your guests a way to get out of the water for a bit as they bounce away.
Rebound Delivers Water Slides Kids Love
When renting an item from Rebound Party Rentals, expect nothing but the best for water glides that children love! All our water slides rentals have all of the latest safety features designed to keep your guests safe. These include no-jump netting and bumpers at the end of the slides to keep riders from sliding out. These safety features combined with our cleaning and sanitization processes between each rental are designed to keep kids safe and our customer service can't be beat either. This gives parents the ability to unwind a bit at your party and have a chance to socialize with friends and loved ones while the youngsters take limitless turns on our water slides.
We offer some of the best customer service in the area. We are a locally-owned company and our founders are parents as well. We know how stressful it can be planning and hosting a party. We do everything we can to take that stress away. It all starts with our online reservation system, allowing you to book items for your party without ever having to leave home. We only use commercial-grade equipment with the latest safety features designed to keep our customers and their guests safe. We also inspect, clean and sanitize each of our rental items between every rental. Combine all of that with our core belief of exceptional customer service and helping parents provide safe and fun events for their children and it's no wonder why our customers rave about Rebound Party Rentals.
Talk to our friendly team if you are uncertain which water slide is the appropriate choice for your party location as well as age of kids. Again, many of us are parents as well and know what we would have at a party for our own children. We can also help you make the right choice for a water slide rental at your party location.
All of our water slides are sterilized and cleaned between each rental for your children's safety. We take great pride in offering a high-grade selection of water slide rentals for your celebrations or events. No need to stress over a raggedy, unclean water slide arriving held together with duct tape. All our units are extensively examined and in tip-top form prepared to go for your occasion. Our customers love us for their water slide rentals because they understand they can count on us to provide quality rentals and exceptional customer service.
Check out our reviews
to see what our customers have to say.
Check out our selection of water slides and other rental items we have available, add your items to your cart, provide us with your party information and pay a small deposit to reserve your water slide. Once you complete your checkout, you will receive a confirmation email regarding your event. A couple of days leading up to the event, we will send some pointers to ensure your party goes off without a hitch. If you realize after you've reserved your water slide rental that you need to add some other things to your rental, just let us know. We look forward to bringing the fun to your next party!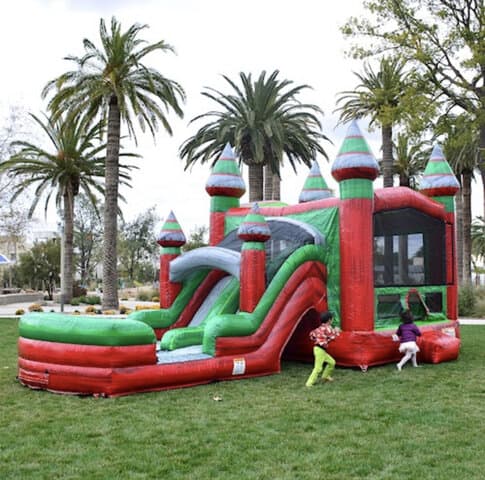 Amazon Trek Combination Bounce House with Dual Lane Water Slide with Splash Pad
This bounce house with slide combination is a great addition to any party. Not everyone is ready for a super tall slide and the large water slides can intimidate younger riders. The Amazon Trek can be used wet or dry and make it perfect year round. It features a large bounce area and also has 2 slide lanes with an inflated splash zone at the end. The inflated wall between the lanes means kids can safely slide down next to each other and race their friends to the bottom.
Recommended ages: 2-12.
To rent this item as a dry unit, reserve our
Amazon Trek Combination Bounce House with Dual Lane Slide
Order Wet Now!
Water Slide and Dry Slide Rentals Made Easy


Not only is the ordering process easy and fast, but the confirmation, setup, and pickup process is a breeze!

You can choose to rent your inflatable water slide and other items with our easy online ordering system. You can also choose to call, email, or live chat with one of our team members and walk you through the ordering process.

After you rent a water slide, a member of our team will contact you within 24 hours to confirm the order. On the day of the event, your delivery driver or team will call you to verify the window in which they plan to arrive. Once we arrive, we will:


Set up the equipment in the safest location possible.
Collect payment if anything is due.
Our delivery team will show you how to operate the equipment safely.
Answer any questions you may have and verify pickup time.


That's it! A simple and smooth way to rent a water slide for your party!
Easy Online Ordering 24/7
Pick your party/event date and times.
Choose the item(s) you're interested in.
Enter your information.
Pay a small deposit or pay in full.
It's that simple!
Family Owned and Operated.
On-time Delivery.
Everything is cleaned and sanitized.
We offer Multi-Day Discounts!
We cater to backyard parties, corporate events, and everything in-between.
Yes, We Deliver Water Slides in Citrus Springs!

Rebound Party Rentals delivers to parties and events throughout Citrus Springs and the surrounding communities. We love watching kids faces break into smiles every time. Our selection of inflatable water slides and dry slides, bounce houses, bounce houses with slides, mechanical rides, obstacle courses, interactive games, are a sure hit every time. We also have offer tents, tables and chairs to give your guests a place to escape the weather and relax while also making your party planning easier. At a location that doesn't have access to electricity? No problem, we even have generators available for rent to provide the power.
Customers Who Rented Water Slides in Citrus Springs Also Rented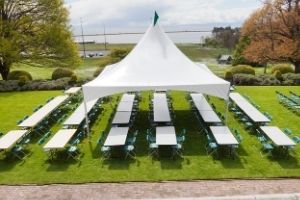 Tents, Tables & Chairs
Everyone needs a place to gather and our tents, tables and chair rentals provide a great place to get out of the weather, relax and have a place to socialize with the other guests at the party.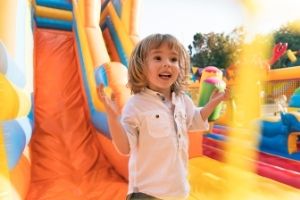 Bouncers with Slides
Our inflatable combination bounce house with slide rentals are a great way to entertain your guests with a large bounce area and a built-in slide for added fun. Many can also be used wet for even more fun.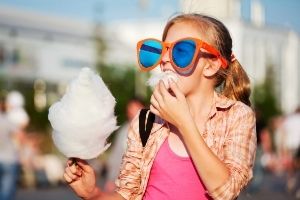 Party Snacks
No party is ever complete without snacks! Rebound Party Rentals has popcorn machines, cotton candy machines, snow cones, and more. We have all the carnival-style snack machines you will need for your next party.
Frequently Asked Questions